So, you're considering study abroad…
Of course you should go! This is your chance to have the adventure of a lifetime. 
But maybe you're a little bit concerned (scared?) about being in a foreign country with no friends. DON"T FRET…I'VE GOT YOU!
So as an international student, you'll find it's not difficult at all to make friends, good friends who actually could turn out to be your friends forever.
Forming new friendships is one of the greatest benefits of studying abroad. Your trip will be such a fun, interesting, and exciting time – ok, maybe a tad nerve-wracking at first – but it will take you about a minute in your new country to realize there's nothing else like it. So be brave, be yourself, have a positive outlook, and get ready to meet lots of amazing people and have a sensational experience.
In previous blog posts I've compared it to going greek because of the experiences you share. So think about it like that, only instead of the pledging you get on a plane, not a bad deal. 
Go to Orientation
First things first…
Sure, it may turn out to be a little boring, but it's also a perfect chance to meet all the other international students, that's why you're going. You've all got something in common from the start and this is the beginning of that Greek experience I referenced above. 
Figure Out The Phones And Friend Everyone 
You could say that your mobile phone is a life line of sorts. With it you can access all kinds of information via social media, plus you'll be able to contact your fellow students and the locals you meet. And they'll be able to reach you. That way you can be sure not to miss out on any fun activities that are being planned.
Just like at home, social media will make it easy to scope out special sites and activities right in your host city via Facebook (I suggest a group, if you're still active on the old FB), Instagram, and Snapchat, plus local travel blogs, and sites like Lonely Planet, to name a few. This is the ideal scenario for putting technology to work for you. As a result, you're sure to find all kinds of great things to do like visit local exhibits, concerts, and markets.
Also consider try Meetup. On this site, you can literally find thousands of established interest groups. Do you like photography? Dance? Want to practice your language skills? Mingle with some friendly faces? Go sightseeing? Play a sport? There are outlets for them all on Meetup. It's a fantastic starting point when you aren't sure how to go about making friends. 
I suggest bringing one or two of your classmates that you just met on an orientation.
Remember, like all friendships, the new ones you form in your home-away-from-home will need to be nurtured. So once you connect, keep the communication channels open, make plans for getting together, and let your new friends know how much you enjoy being with them.
Just make sure you figure out the phones 📱✔️
Join Student Clubs and Attend School Events
Just about every university has some type of student club, group, or organization that you can join. Find one or more that interest you based on your major, a hobby, or just for the social aspect. To ensure you meet a good mix of people, seek out groups that include local students, as well as international.
Many study abroad programs also hold events like lunches, dinners, or other get-togethers so that students will have opportunities to meet one another. I miss this so much, because they really roll out the red carpet if you're an international student. Attend as many of these as you can. If your program doesn't offer school events, plan some of your own. It doesn't have to be anything fancy or expensive. Food always brings people together so how about hosting a dinner party or potluck. If you live with a host family, ask if you can bring a friend home to join you for a family meal. I bet it will be as much fun for them as for you.
CAMERON ZBIKOWSKI is the poster boy for this.
Go to Local Events
Besides events at school, attending local events around town is a fabulous way to meet locals and learn about their culture first-hand. So be on the lookout for flyers, check campus event boards, and scan local papers and magazines for event listings.
Tango dancing? Painting by the Sea? Holiday celebrations? Get out of your comfort zone and join the fun. Immerse yourself in the culture and live like the locals. Not only will you meet new people, but you just might discover a fascinating new interest. And think of the great opportunities these activities can provide for practicing your language skills.
Just as an aside: on the off-chance that there's something special you want to do and you can't find anyone to join you, go anyway (providing that it's safe, of course). Don't miss out on anything that you want to accomplish during your study abroad journey. On the other hand, if friends want to go out and you're in a stay-at-home mood, then that's what you should do. Use the "me" time to watch a movie in your host language, sample a new food from a local eatery, or maybe even try your hand at cooking it yourself. Bottom line is that this is YOUR once-in-a lifetime experience so make it the best it can be for YOU.
Roommates For Life!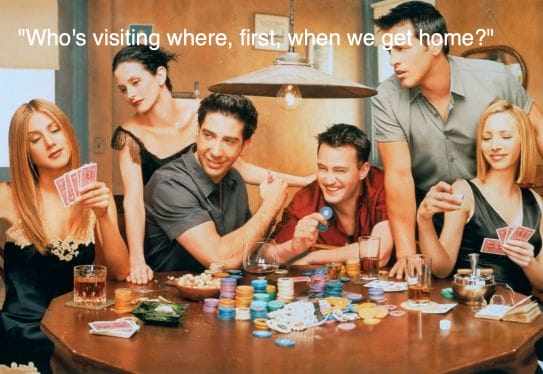 Whether you're going to live in dorm or shared apartment, having one or more roommates will help you stay active, meet new people, and expand your circle of friends. We all know how it goes – you'll be able to hang out with your roommates, meet their friends, and their friends' friends, and, and, and… You get the picture,👆right! The more people you meet, the easier it is; you'll quickly discover that it's not quite so intimidating to try something new when you're with others. Culture shock – what's that!
CAROLINE SASS is the poster girl for this…most of the time it's visiting other schools upon your arrival back to your home country. But in Caroline's case she went back to her host country and visited all her friends. We're not talking Mexico, either.
(it was her 🎄🎅🏻 present) 
Make Plans for Side Trips 
This kind of goes without saying, but MarketMuse told me to add it, so…
Organize or participate in sightseeing trips in and around your host country or city, or go exploring in another nearby locale. Plan outings to museums, art galleries, and local landmarks. Or gather a group to shop, sample the cuisine at local restaurants, or have a fun night out together at a club or bar. Conversely, if someone invites you to do something, by all means say "yes!" Don't stay in and think about feeling homesick 🤮 (which might happen occasionally); get out and have fun absorbing the new culture around you. You may never have this opportunity again.
Study with Others
I'm just going to flat out say it: classes are easier when you're abroad.
Having said that, there is always one student that has to go home for one reason or another. Every semester has at least one that either gets in trouble or fails out of school. Don't be the one. It's Study Abroad Smarter, not Study Abroad Dumber.
You've got a support system, (remember, you met at orientation)…use them.
We all need some quiet time, but it's also good to be with others, even when doing schoolwork. Don't do all your studying at home. Head to the library, or pick a cafe or coffee shop where you can meet other students and get your work done together. Nothing beats studying with a yummy snack and good company. Not only will you be forming friendships, but you may learn better, too, by helping one another.
I'm purposefully not adding any images, links, emojis, or graphics in this section. This way we can see who's studying and who's skimming. It's seriously taking every last ounce of my self discipline not add the LOL emoji, here.
If you're not Australia or U.K. bound, the odds are that you're interested in learning a language.
Becoming a language exchange partner is a great way to accomplish this and make some wonderful local friends along the way.
As a language exchange partner, you will be able to help a local work on his or her English while you, in turn, practice your foreign language skills. I don't think there's a better way to sharpen your grammar and pronunciation, not to mention pick up some of the colloquialisms and slang that you don't learn in textbooks. 
Here's another awesome side benefit: Your language partner can be a great source of information about your host country or city and likely will join you on some of your fun excursions. When I studied in Buenos Aires, my native-speaking friends gave me tons of helpful tips on best places to go (and the easiest ways to get there), what to see, and how to do things.
Many times, they were right there with me. That's how I was introduced to the best empanadas I've ever had in my life.
This is what the above section looks like in Arabic…
إذا لم تكن ملتزمًا بأستراليا أو المملكة المتحدة ، فالاحتمالات هي أنك مهتم بتعلم لغة.
أن تصبح شريكًا لتبادل اللغة هو وسيلة رائعة لتحقيق ذلك وتكوين بعض الأصدقاء المحليين الرائعين على طول الطريق.
كشريك لتبادل اللغة ، سوف تكون قادرًا على مساعدة عمل محلي في لغته الإنجليزية أثناء ممارسة مهاراتك في اللغة الأجنبية. لا أعتقد أن هناك طريقة أفضل لشحذ قواعد اللغة والنطق ، ناهيك عن التقاط بعض العامية واللغة العامية التي لا تتعلمها في الكتب المدرسية.
إليك ميزة جانبية أخرى رائعة: يمكن أن يكون شريكك في اللغة مصدرًا رائعًا للمعلومات حول البلد أو المدينة المضيفة الخاصة بك ، ومن المحتمل أن ينضم إليك في بعض الرحلات الترفيهية. عندما درست في بوينس آيرس ، أعطاني أصدقائي الناطقين باللغة الإنجليزية الكثير من النصائح المفيدة حول أفضل الأماكن للذهاب (وأسهل الطرق للوصول إلى هناك) ، وما يجب رؤيته ، وكيفية القيام بالأشياء.
عدة مرات ، كانوا هناك حق معي. هكذا تعرفت على أفضل إمباناداس التي مررت بها في حياتي
JEFF CARY is the poster boy for learning the tough languages. As a matter of fact, it's kind of his job now. Check out his interview to hear how you can get big 💰 from Uncle Sam for learning the toughies (that basically means no western Europe, kids).
He studied abroad in
Volunteering
Volunteering is a terrific avenue for meeting new people outside your study abroad program.
Look into the opportunities available in your new country and get involved with whatever interests you – from community development tochildcare to environmental conservation. This is something you can check out once you reach your destination, or you can determine it
ahead of time with a study abroad advisor at home as you develop your program. Remember, your advisor is your best resource for ALL things study abroad. If volunteering is your thing, research the options and there's a good chance you'll find something that's a perfect fit.
As a volunteer, there's one more important side benefit to gain. Besides hands-on learning and helping the community, you'll also be building strong friendships with others who share your values, interests, and goals.
As with our Greek life example in the beginning, it would be like joining an org within your newfound international fraternity or sorority. By the way, adding a volunteer experience to your job resume is a real bonus and most certainly is something that catches the eye of hiring managers 👀. It can help put you miles ahead of others who are applying for the same position.
New Friends are Waiting to Meet You
You've probably gathered by now that there's no set-in-stone formula for making friends while abroad.
But if you try the methods we just discussed – even some of them – chances are pretty awesome that you won't be going solo for long. Just keep in mind that sometimes it takes time for friendships to develop, so don't stress out about it. One new friend, two, or twenty. The number doesn't matter.
What counts is that you've accomplished something really outstanding by traveling to a foreign land, by yourself, and acquired important knowledge about another part of the world. And along the way, you've met some pretty amazing people. That's something that will stay with you forever.