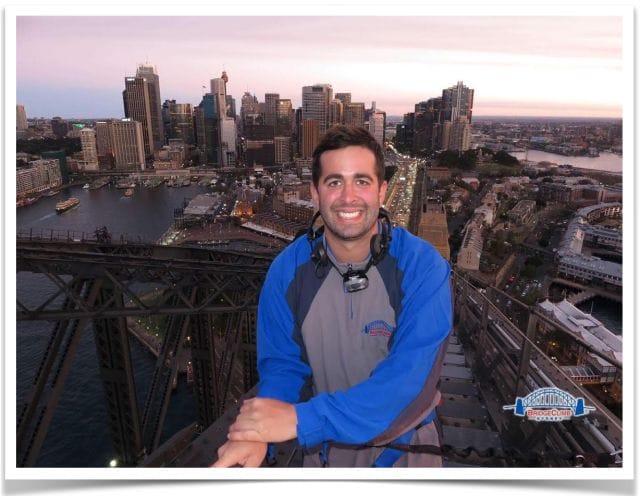 "It's always been at the top of my bucket list, and, I mean, they've got kangaroos.  What more could you ask for?" — Cameron Zbikowski
Wow. I always love it when I get an episode recorded with someone from down under. It might be hard to outdo Grand Valley State's Cameron Zbikowski's interview, though.
He was in Australia for two years! Far and away longer than anyone I've had on the show to date.
What's more is that Cameron actually served in the Military prior to starting college, and we was kind enough to share some of his experience with his time in the service, as well.
My favorite overall theme of the interview was Rugby.
Cameron was fortunate enough to find a sport he loved and make lifelong friends in the process. He was actually able to create a high school environment while in college…in Australia; classes, practice, and then games on the weekends.
SHOW NOTES
Spending two years in Australia 🇦🇺 

[1:51]

Balancing rugby and academic life 🏉 

[6:43]

Using GI Bill with other financial aid 💸 

[7:58]

Military service 🎖 

[9:25]

Scheduling in the southern hemisphere 🗓 

[10:57]

A typical week studying and playing rugby Down Under 📚 

[12:21]

Adjusting the living arrangements 🏘 

[14:44]

Exploring New Zealand, Cambodia, Thailand, and Vietnam 🌏

[17:52]

Being on a cruise ship in a cyclone 🚢

[19:16]

Eating kangaroo meat and other dining experiences 🍖 

[20:34]

The coffee culture in Australia  ☕️ [

25:12]

Future exchange plans in Chile 🇨🇱 

[27:08]

Advantages of switching up exchange locations 🧭 

[29:34]

Returning to the location of a dirt bike wreck 🏍 

[30:41]

Cameron's travel-help recommendations and advice 🧳 

[32:52]
An Introduction To Rugby [Infographic]