"It's been an amazing experience because I've been planning events for networking between composers, directors, and writers." – Jessica Kisluk 🦘
In this interview I talk with Jessica about her unique study abroad experience. Although she's technically studying abroad for a semester, she will have spent the better part of this year in Europe due to a mini study abroad experience she did last spring in Italy and a summer family trip to Poland.
She does a great job of educating us about Irish culture and tells us everything she has in store for the duration of her trip. But she doesn't stop there.
We also learn that Jessica has also secured an internship with the Screen Directors Guild of Ireland which aligns perfectly with her major and minor, which is graphic design and arts management.
"Whatever you do in life may be insignificant but it is very important that you do it" – Ghandi
SHOW NOTES
Jessica's multiple international travels through

SUNY Oswego

 🗺 [2:14]
Why Jessica chose Dublin 🇮🇪 [3:26]

Coming home before going back 👨‍✈️ [4:25]

Quarter courses at Oswego 🏫 [5:30]

The grading scale in Dublin  📑 [6:57]

Piecing together the study abroad puzzle 🧩[9:15]

Jessica's living arrangements in Dublin 🏠 [11:30]

Learning about Irish Time ⌚️ [13:18] 
Landing an awesome

internship

in Ireland 👩‍💻[14:01]

Irish cuisine 🍔[16:30]

Pasta Carbonara

  🍝 [17:27]

Jessica's crazy travel story and upcoming adventures 🛣 [18:20]

An official

CAPA blogger

 ✍️ [20:20]

Jessica's website and app recommendations 📱[20:40]

Her Instagram travel hack 📸 [22:14]

Jessica's favorite quote 🧐 [23:03]

Hanging up in Ireland 📞[24:40]

Recommendations 🙌
Jessica's Amazing Journey [Infographic]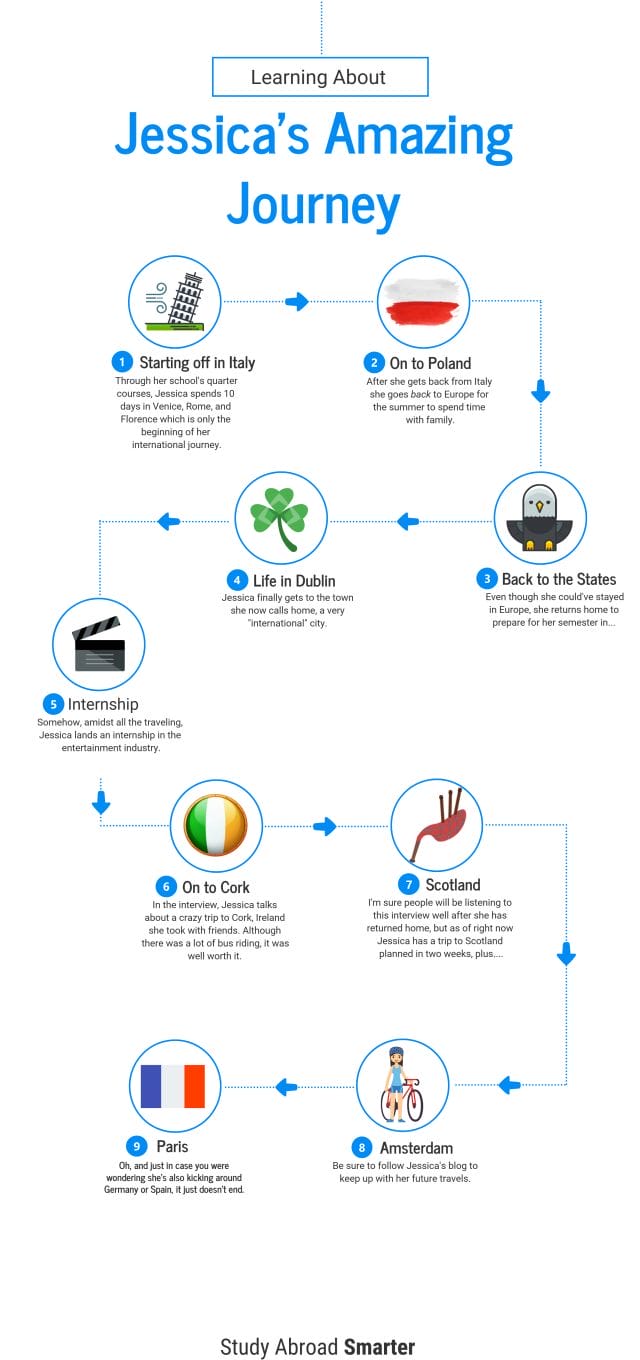 Pasta Carbonera